What is a Limited Edition Print?
The limited edition series of prints at the Louisa Gould Gallery are popular images. We release only a certain amount each year. We print only the amount indicated. The size does not affect the numbering. Limited edition prints range in image size from 8x12 to 30x40. Please note that it is the image size noted next to the images in the image gallery not the framed size. For example some of the images in the gallery are only 5 that means we only print 5 of this particular image. As a result, the image price is more than say an edition of 250. If the edition number is 250, only 250 prints will be made. 250 is the standard limited edition number, if no other is indicated. After the image reaches #5 or #250, we no longer make that image in the limited edition series. There is only one of every number between 1 and 250. Each print is signed and numbered by Louisa herself.
Why is there different pricing for prints?
There is different pricing for different limited edition numbers. Please see above for information on limited edition prints. Please inquire about pricing for different sizes for edition numbers other than 250. For example all the images in the Exotic Destinations Show have edition sizes other than 250, and therefore are priced differently. If you would like an image in another size, please contact us.
Please also note that pricing for wedding prints, assignment work and stock images vary from the limited edition prints. Please contact us for these price structures.
How can I order nautical prints from a sailing event, recent magazine or newspaper?
If you see your boat, please let us know the image # and size. However, if you do not see your boat on this site, we have many more images, so please let us know the Regatta, Date, your boat name, sail number and country, the boat racing number on the bow and the color of the boat. Please provide any other details, i.e. Key West Race Week, Melges 24, top 3 at the mark rounding. For magazine and newspaper images, please provide the date of publication, the page number and a description of the image and caption, and size of the image and contact us.
Does Louisa offer private photography classes?
Louisa provides individual and semi-private instruction on Martha's Vineyard. She will travel to offer classes. Louisa works closely with you to take you to the next level. Please contact us to discuss your goals.
Will Louisa come speak at our school, yacht club or organization?
Absolutely! Louisa loves to share her passion about her work with any age group. Popular talks/shows combine her personal sailing and travel experiences with breathtaking images. Louisa will provide a slide show of her work. Please contact the studio to schedule a show.
Can I hire Louisa to photograph my boat, house, family etc.?
Definitely. Louisa is available for private boat, house, and portrait sessions. Private boat photography shoots make a great gift for the person who has everything. Louisa has worked with A-list clients to shoot their yachts and retreats on the Vineyard and elsewhere and is known for her discrimination.
How do we schedule a portrait session?
Louisa loves to shoot outdoors. She does a lot of her portrait work on the island of Martha's Vineyard. Louisa will come to your home or choose the perfect location on island for the occasion. We will design a package that suites your needs. Please view the portrait page and contact us to arrange your portrait session.
Will Louisa travel to do an assignment or wedding?
Louisa will travel to wherever you are located or the event is being held. She recently traveled to Antarctica for a wedding shoot and to New Zealand for the America's Cup. Louisa has traveled extensively and is always ready for a shoot. Please contact us to arrange.
Does Louisa shoot video?
Yes, Louisa shoots mini DV. She has made DVD's for sailing and sports events, weddings and boat portraits. Please contact the studio for further details.
Does Louisa write articles for newspapers and magazines?
Yes, Louisa writes mostly on yachting (cruising and racing) and travel (adventure and cultural). She intimately understands all aspects of sailboats and has traveled from remote parts all over the world, including Haiti, Burma and Vietnam. Louisa hits the ground running and captures the essence of a place and culture, in both works and images.
Where are your offices and art gallery?
The studio and gallery are located at the same location, 54 Main St. P.O. Box 1348 Vineyard Haven, MA 02568. (508) 693.7373 on the island of Martha's Vineyard. The Louisa Gould Gallery is just a 2-minute walk from the ferry from Woods Hole. Upon departure from the ferry take a left and the next left at 5 corners. The gallery is 25 feet toward the harbor on the right hand side. Should you require a private showing, please call to schedule a suitable time.
What do the frame colors look like?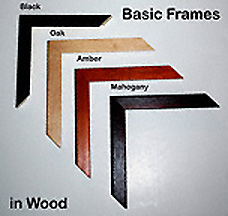 Are custom frames available for Louisa Gould prints?
Yes, please call the gallery for more information.
How much is shipping?
Shipping is additional to the print prices quoted. Shipping charges vary depending on size and weight. Please note that an 8x12 print in a tube or box will be charged less than a 30x40-framed image. Shipping charges range from $10.00 to $100.00. Please note that we do ship overseas.